Nach erfolgreicher Fertigstellung der über einjährigen Umbau- und Erweiterungsarbeiten feiert der Donauturm seine offizielle Wiedereröffnung.
At today's press conference, Mag. (FH) Paul Blaguss, co-owner of the Danube Tower, Dr. Margarete Schramböck, Federal Minister for Digitization and Business Location, and Mayor Dr. Michael Ludwig presented the Danube Tower as an economic factor as well as the economic key points of the leading tourism enterprise. After the blessing by cathedral priest Toni Faber, the official ribbon cutting took place.
Revitalization spurs economy: total investment of over 1 O million euros, 30 additional jobs and new, emission-neutral electric shuttle service starting in April
Danube Tower as an important leading enterprise of the tourism city Vienna with high quality, year-round gastronomy focus and about 000 visitors
Gastronomic offer, in addition to tower cafe and tower restaurant above, also expanded at ground level with Donaucafe, Donaubräu including spacious guest garden
High quality standards: popular landmark creates true highlight moments through all-round renovation and is a favorite place of many Viennese people
Many special moments are also celebrated at the Danube Tower: on average, there are six marriage proposals per week
Since the Danube Tower was opened in 1964 as a highlight as part of the Vienna International Garden Show (WIG), it has stood as an observation tower for leisure, fun and recreation. With the successful completion of the year-long renovation and expansion work that began in early 2018, the owners - 55 years later - have brought a breath of fresh air to Austria's tallest landmark. The 252-meter-high tower is a real tourist magnet, attracting around 420,000 visitors a year. This makes the Danube Tower one of the top sights in Austria. About 50% of the visitors come from Vienna and Austria, the other 50% come from abroad. Germany, Italy, Great Britain, Switzerland and even the USA are among the main countries of origin.
Tourism an essential economic factor. With 16.5 million guest nights, Vienna in 2018 exceeded the previous record from 2017 by 6.3 percent. The number of guests increased by 6.2 percent in 2018 to more than 7.5 million. To support the strategic planning of tourism flows outside the highly frequented city center, guiding businesses like the Danube Tower help. Its livable recreational area, Donaupark, combined with culinary offerings and adventure elements, make the Danube Tower one of the most popular destinations away from the city center.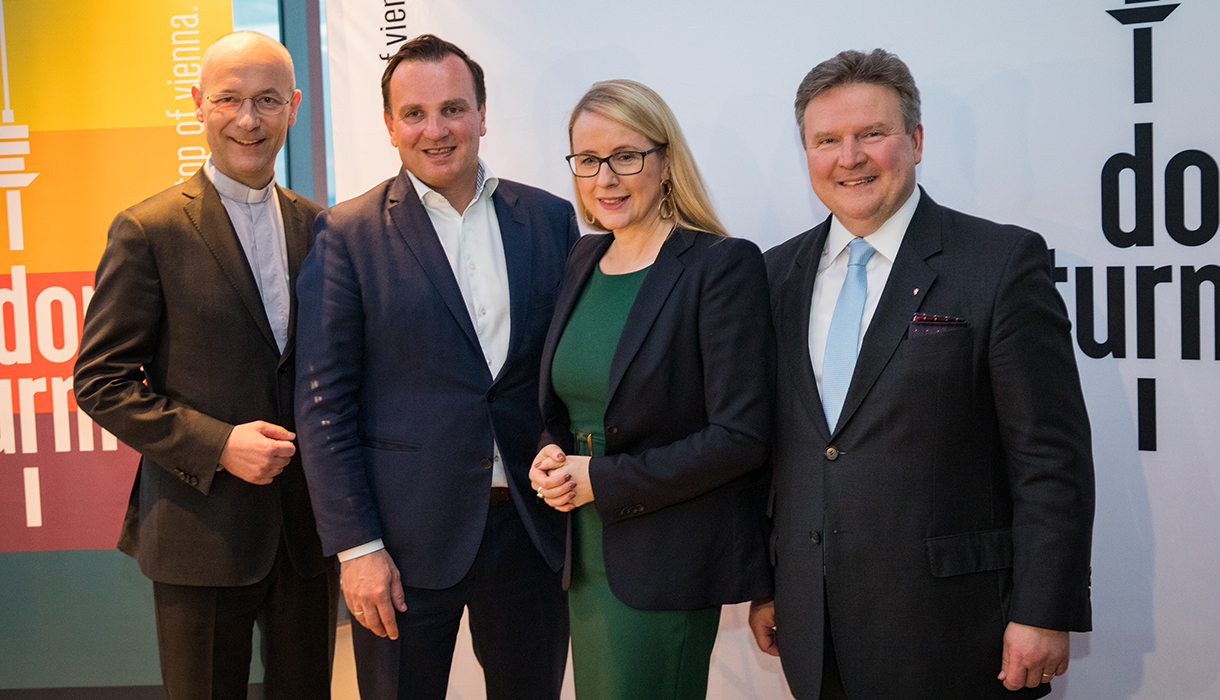 Mayor Dr. Michael Ludwig commented: The Vienna Danube Tower is a landmark of our city that is visible from afar. Since its construction in the 1960s, it has been a popular destination together with the Danube Park surrounding it. Not only for the Viennese, but also for many tourists from Austria and abroad who visit our city every year. And this is proof that Vienna as a whole is attractive for people. For those who live and reside here and those who come to visit."
Leading economic enterprise creates 30 new jobs
Currently - depending on the season - up to 120 employees work in the Danube Tower. With the expansion of the culinary offer on the first floor and the spacious guest garden, that's 30 more year-round jobs than before. With the creation of jobs and the private investment in a public place, the Danube Tower is both an economic factor and a showcase project.
Dr. Margarete Schramböck, Federal Minister for Digitalization and Business Location, commented: "The Danube Tower is not only a central landmark of Vienna and a magnet for locals and numerous tourists, but also provides sustainable impetus for the business location. Investments in tourist attractions are always also investments in the local economy and new jobs."
Around 10 million euros were invested in the extensive "state of the art" modernization and the return to the elegant style of the 1960s, technical adaptations and the new construction of the Donaucafe and Donaubräu as well as its high-quality design. "We have taken over a tower that is getting on in years and are proud that we have been able to turn it into a real must-see experience by revitalizing it. Even after the redesign, the tower has remained what it was designed to be 55 years ago - a lookout tower. And that is precisely why the view from 252 meters is still in the foreground," explains Mag. (FH) Paul Blaguss, co-owner of the Danube Tower. "Our core strategy is to ensure sustainable quality at the highest level. Our visitor numbers are an indicator of success: there is lively visitor interest, and the new gastronomic offers have also been well received from the first day of opening. Our offer aims at a balanced mix of guests. The Danube Tower should be a real favorite place for all Viennese, park visitors and guests from all over the world," Blaguss continues.