Activities near the Danube Tower
There is hardly a place in Vienna from which you can get a better view of the city from above than from a landmark like the Danube Tower.
The Danube Island, the Danube Park and the Old Danube are green oases of the city with become. Nice pubs, numerous recreational opportunities and especially the natural swimming in the water are popular.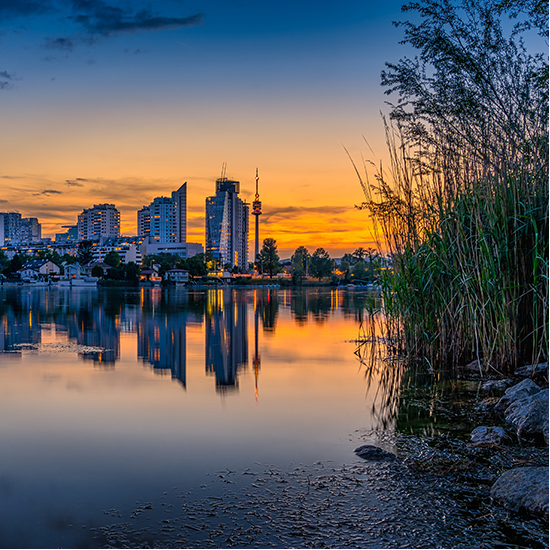 Alte Donau
Sailing, pedal boating or rowing on the old Danube at the old arm of the Danube River - in front of the skyline of the Donaucity district with the flair of the Vienna International Centre - and all this in a green setting.
Austria Center Vienna
The Austria Center Vienna is Austria's largest conference center.
Blumengärten Hirschstetten
The Hirstätten flower gardens showcase themed gardens and provide a glimpse into the floral and plant world of our planet over an area of 60,000 square meters.
Danube Park
The Donaupark was transformed from a former landfill into a park in 1964 in the course of the "Vienna International Garden Show 1964". The Donaustadt Cultural Association organizes annual events on the Danube Park stage, with the favorites of the Viennese cultural scene.
Donauparkbahn
The sister of the Liliputbahn in the Prater was opened as an exhibition railroad for the Vienna International Garden Show in 1964. On the ride, the Donauparkbahn will also take you to discover one or two places to explore on a subsequent walk, or you can simply relax in the midst of one of Vienna's most beautiful recreational landscapes.


Papstwiese with Pope Cross
On September 11, 1983, about 300,000 believers gathered on the approximately 20-hectare Pope's Meadow near the Danube Park for a mass on the occasion of Pope John Paul II's visit. A 40-meter-high and 56-ton steel cross was erected for the occasion.
Irissee
The banks of the 25,000 m2 Lake Iris are flattened and planted with large swamp zones. Plants such as rushes, sedges, etc. form a biologically working sewage treatment plant. Furthermore, an old stand of silver poplars has been preserved.
Kaffeehausberg
A mountain was heaped up from the excavated material of the lake Irisse. The coffee house on it was closed in the mid-1990s, but its basic structure was preserved and restored.
Korea-Kulturhaus
In 2012, the former lakeside restaurant on Lake Irisse was converted into a Korea Culture House and is a listed building.
Vienna International Centre
The Vienna International Centre is home to the United Nations Office at Vienna and other international organizations. The impressive modern architecture can be enjoyed from the Viewing Platform of the Danube Tower.
Wiener Donauinsel
The New Danube was built between 1972 and 1988 as flood protection and, together with the Danube Island, forms an important recreational area for Vienna.
Neighborhood of the Danube Tower