Your experience with a view
The viewing platform at a height of 150 meters offers a spectacular view over Vienna. Far above the rooftops of Vienna, visitors escape the often hectic everyday life and can relax with pleasure while the city and its surroundings slowly pass by.
The Danube Tower is the only place in the federal capital where visitors can enjoy a 360-degree panoramic view. In good visibility conditions, you have a distant view of 80 kilometers over the surrounding countryside to the Rax, Schneeberg, as well as to Bratislava.
A visit to the Danube Tower is also exciting for tourists in that, on the one hand, it offers orientation over the city and is thus ideally suited as a starting point for a stay in Vienna.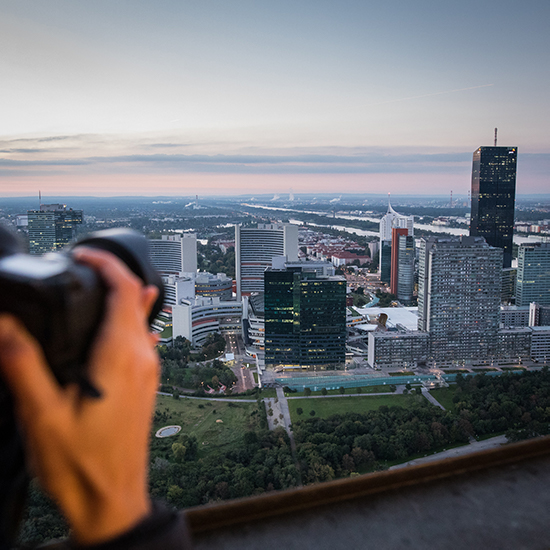 Indoor-Terrace
Should the weather gods not be so kind, there is also a glazed indoor terrace, which is open all year round in all weather conditions. If you would like to enjoy the distant view even longer, you can do so in one of the eateries on the upper levels, our Turmcafe or the Turm Restaurant.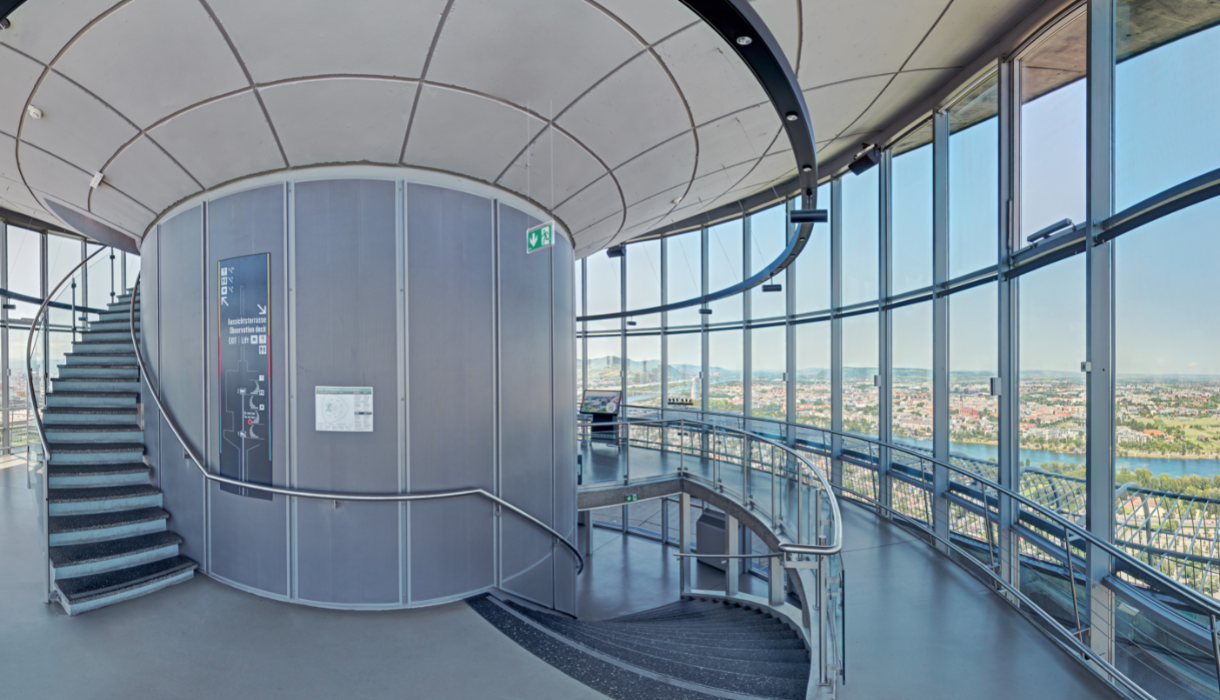 360 degree panorama view over Vienna
From the Danube Tower you have a 360 degree panoramic view over the whole city of Vienna: the Danube basin, the Kahlenberg and Cobenzl, the Vienna Woods, the Bisamberg as well as in the direction of Hainburg.
Interactive panorama screens
Interactive panorama screens provide information in eight languages about the surrounding attractions. Using the touch function, you can zoom in very close to the attractions. If you click on one of the attractions, it appears in large format, complete with information. A special night mode shows visitors the highlights of the city even in the dark.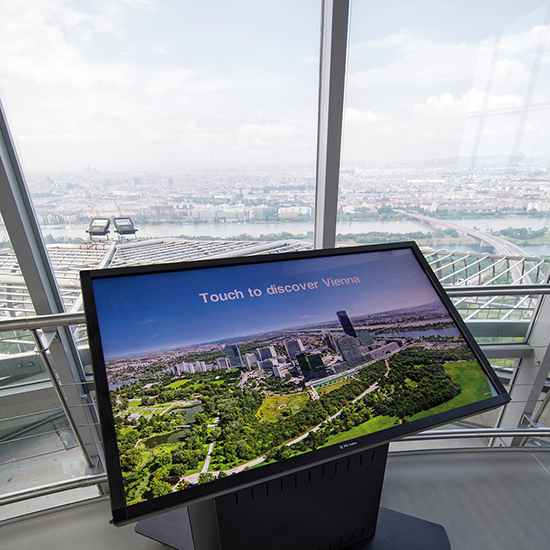 top of Foto
The view from the Danube Tower over Vienna is one of the most beautiful that this city has to offer. Not least because of this, thousands of tourists and locals make a pilgrimage to the 360° viewing terraces at a height of over 150 meters every year.
In order to capture your visit to the Danube Tower in a perfect memory, a photographer, as well as several photo points are available to you, which come up with exciting and state-of-the-art technology. Let us surprise you and create your individual souvenir photo according to your own ideas: This way, you'll get exactly the souvenir you want and one that's really worth seeing and showing off - easy as pie and fully automatic.
In addition to the printed glossy photo, you also get the picture digitally on your cell phone for free - to send to friends or post on social media.