top of Safety Instruction
Information and official requirements at the Danube Tower
Please note that these regulations are provisions from the notice on the operating facility permit and therefore unfortunately no exceptions can be made. The regulations serve to protect all visitors, especially in case of fire or disaster.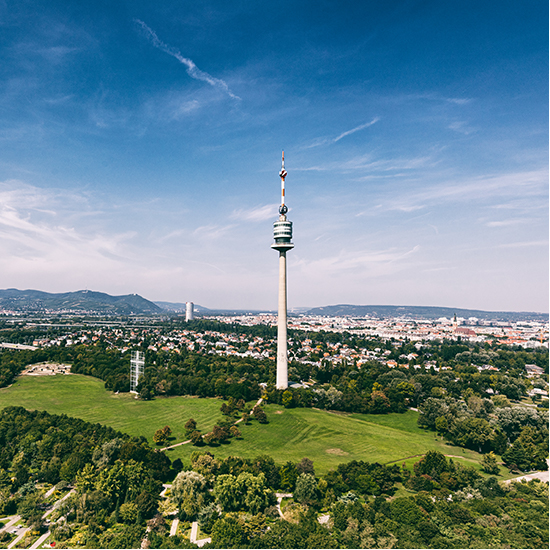 Coronavirus Hygiene measures
The visit of the observation deck as well as the gastronomy is permitted in compliance with the framework conditions stipulated by the Austrian Federal Government as well as the City of Vienna. All necessary measures are taken for the safety of the guests as well as employees.
For your visit to the Danube Tower, all persons over the age of 6 must present a valid proof.
All proofs can be presented digitally as well as printed out.

From the age of 15 years, the 2 G rule applies which means Convalescent or Vaccinated.
From the age of 12 to 15 years, the 2,5 G rule applies, which means Convalescent, vaccinated or PCR tested.
For children from 6 to 11 years the 3 G-rule applies in Vienna (Convalescent or tested)
There is a registration obligation for guests (first and last name, telephone number, email address, date with time of entry).
FFP2 Masks are mandatory.

The following proofs are considered:


Convalescent:
A convalescent certificate is valid for 180 days.
A medical certificate is valid for 180 days after an expired infection with SARS-CoV-2. This must have been detected by molecular biology (e.g., PCR test).
An official certificate of segregation is also valid for 180 days.
Evidence of neutralizing antibodies is NO longer accepted.


Vaccinated:
The EU-compliant vaccination certificate, the yellow vaccination card, a vaccination card and a printout or a PDF (e.g. on a cell phone) of the data from the e-vaccination card are valid as proof of vaccination.
Immunization by two partial vaccinations:

After receiving the second vaccination, the validity period of the vaccination certificate is 360 days and at least 14 days must have elapsed between the two vaccinations.
From December 6, the validity of this vaccination certificate is 270 days.

Immunization by vaccination:

Beginning on the 22nd day after vaccination with a single-dose EMA-approved SARS-CoV-2 vaccine, proof of vaccination is valid for 270 days.
Note: Proof of vaccination with one dose of Janssen will expire on January 3, 2022. Therefore, a 2nd dose is required at the earliest 14 days after the 1st dose in order to continue to receive a valid proof of vaccination.

Immunization by convalescent vaccination:

Provided there was a positive molecular biology test for SARS-CoV-2 at least 21 days prior to vaccination or there is already evidence of neutralizing antibodies at the time of vaccination, proof of vaccination is valid for 360 days from the time of initial vaccination with an EMA-approved vaccine against SARS-CoV-2.
As of December 6, the validity of this proof of vaccination is 270 days.

Further vaccinations ("3rd dose"):

After receiving another vaccination, the validity period of the vaccination certificate is again 360 days. At least 14 days must elapse between this vaccination and an immunization in which only one vaccination is scheduled. For all other vaccination schedules, at least 120 days must have elapsed.
As of Dec. 6, the validity of this vaccination certificate is 270 days.

Exception until Dec. 6, 2021
Persons who have received only one dose of the Corona vaccine (incomplete vaccination series).

For persons who have received the 1st dose but not yet the 2nd dose of the Corona vaccination, there is a transition period until Dec. 6, 2021.
In these cases, proof of vaccination via the 1st dose along with a valid PCR test (48 hours) will be considered valid 2-G proof. Mapping in the green passport is not possible.

For children from the age of 6 until the age of 11 following applies:
PCR test: 72h valid
Antigen test: 48h valid (only for pupils)
Corona-Ninja Passport: This is valid in the week in which all scheduled tests per week of instruction are entered, also on Friday, Saturday and Sunday of that week as proof.
If the respective test series for the Ninja Pass is not complete, then the respective tests are valid individually - a rapid antigen test is valid for 48 hours and a PCR test is valid for 72 hours.
For children from the age of 12 until the age of 15 following applies:
2,5G rule (vaccinated, convalescent or PCR tested)
Corona-Ninja Passwort: Valid from Monday to Friday but not the weekend
PCR Tests: 48h valid

Exceptions
The requirement to provide 2-G proof does not apply to individuals who do not have proof of vaccination or recovery and cannot be vaccinated for health reasons. In such cases, proof from an authorized body of a negative PCR test, which must not be older than 72 hours, must be presented together with a medical certificate.
Events
For events with more than 25 participants, the 2G+ rule applies that means Vaccinated or Convalescent plus PCR Test (48h)
For events with more than 50 participants, the district administrative authority must also be notified. The notification must be submitted at least one week before the event. In addition, a COVID 19 representative must be appointed and a COVID 19 prevention concept must be drawn up.
For events with more than 250 participants, a permit must also be issued by the district administrative authority.
We recommend that you buy tickets online to avoid queues at the ticket offices.
Dog Owner
Bringing dogs up the Danube Tower is not permitted by the authorities. Please leave your dog in suitable care on the ground. Taking guide dogs and assistance dogs is permitted.
Dogs are very welcome at the Donaubräu.
Strollers
Strollers may not be transported in the express elevators, therefore they cannot be taken to the observation terrace, the tower café or the tower restaurant.
Our staff at the ticket office will be happy to show you a place where you can leave your stroller.
Taking a Maxi-Cosi with you is a good alternative.
Open fire and candles
For fire prevention reasons, open fires and candles are prohibited without exception on the entire Danube Tower.
Smoke-free at the Danube Tower
Smoking is officially prohibited throughout the tower.
Wheelchair user
In the high-speed elevators, only one person in a wheelchair per car may be transported to exit point 1 (observation deck). Each wheelchair user must be accompanied by a person who can transport the wheelchair user if necessary. A maximum of 3 wheelchair users may be present in the tower on the observation terrace at the same time.
The stairs to the catering areas and the stairs to the indoor terrace cannot be used with wheelchairs.
Therefore, it is unfortunately not possible to visit these areas with a wheelchair. If you are able to walk short distances, our staff at the cash desk will be happy to show you the parking area provided for wheelchairs in the entrance area.
The newly designed areas on the first floor - the Donaubräu, the Donaucafé and the store - can of course be used barrier-free.
Events on the indoor terrace
The indoor terrace must be accessible at all times and can therefore only be visually closed off, as it is part of the escape route and evacuation zone in case of fire or emergency (tower restaurant, tower café, central floor). The use of liquid gas and open flames (e.g. candlelight, spray candles, etc.) is strictly prohibited throughout the tower head. All furniture and
decorative items must comply with flammability class B1 in accordance with ÖNORM B 3800/1 and may only be used if they can be shown to comply with at least this flammability class.