top of Safety Instruction
Information and official requirements at the Danube Tower
Please note that these regulations are provisions from the notice on the operating facility permit and therefore unfortunately no exceptions can be made. The regulations serve to protect all visitors, especially in case of fire or disaster.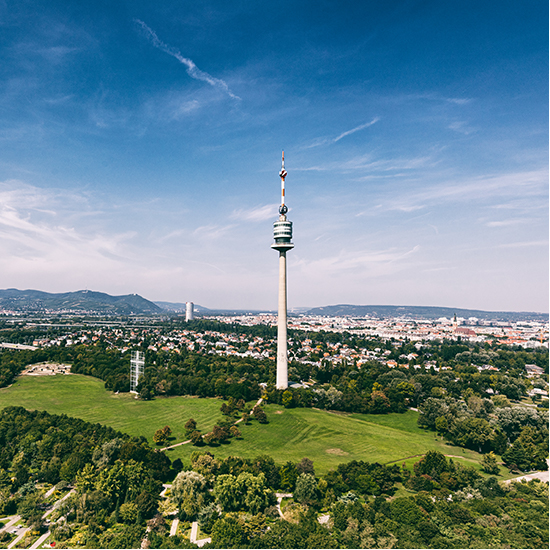 Dog Owner
Bringing dogs up the Danube Tower is not permitted by the authorities. Please leave your dog in suitable care on the ground. Taking guide dogs and assistance dogs is permitted.
Dogs are very welcome at the Donaubräu.
Strollers
Strollers may not be transported in the express elevators, therefore they cannot be taken to the observation terrace, the tower café or the tower restaurant.
Our staff at the ticket office will be happy to show you a place where you can leave your stroller.
Taking a Maxi-Cosi with you is a good alternative.
Open fire and candles
For fire prevention reasons, open fires and candles are prohibited without exception on the entire Danube Tower.
Smoke-free at the Danube Tower
Smoking is officially prohibited throughout the tower.
Wheelchair user
In the high-speed elevators, only one person in a wheelchair per car may be transported to exit point 1 (observation deck). Each wheelchair user must be accompanied by a person who can transport the wheelchair user if necessary. A maximum of 3 wheelchair users may be present in the tower on the observation terrace at the same time.
The stairs to the catering areas and the stairs to the indoor terrace cannot be used with wheelchairs.
Therefore, it is unfortunately not possible to visit these areas with a wheelchair. If you are able to walk short distances, our staff at the cash desk will be happy to show you the parking area provided for wheelchairs in the entrance area.
The newly designed areas on the first floor - the Donaubräu, the Donaucafé and the store - can of course be used barrier-free.
Events on the indoor terrace
The indoor terrace must be accessible at all times and can therefore only be visually closed off, as it is part of the escape route and evacuation zone in case of fire or emergency (tower restaurant, tower café, central floor). The use of liquid gas and open flames (e.g. candlelight, spray candles, etc.) is strictly prohibited throughout the tower head. All furniture and
decorative items must comply with flammability class B1 in accordance with ÖNORM B 3800/1 and may only be used if they can be shown to comply with at least this flammability class.