Students can gain practical experience in the course of their training in the Danube Tower.
Our trainees summer 2022
The Danube Tower had a great experience with its interns last summer and is excited to welcome dedicated students again this coming summer 2023.
If you are looking for an exciting and educational internship opportunity and would love to get a behind-the-scenes look at Austria's tallest structure, be sure to apply!
Read on to learn more about this unique opportunity.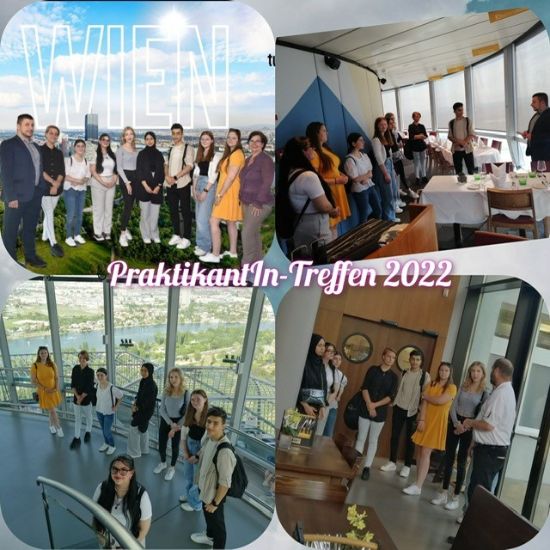 Tower kitchen
Raffaela Nesshyba

I completed my 2-month mandatory internship in the kitchen of the Donauturm restaurant.

My first impression of the Donauturm was very positive, as classmates who had completed an internship themselves told me only good things. Already in the application phase, one is received very warmly and an intern meeting was organized. This allowed us all to get to know each other better and gave us a better overview of the whole tower.

I spent most of the time of my internship in the tower kitchen. This is a bit more upscale and so I was able to apply what I learned in school well and expand my knowledge.

My duties consisted mostly of preparing desserts, which I started most mornings, then there were different tasks every day. I also made salads, prepared doughs, and served desserts. Every day there was a 30-minute break where I could make myself something to eat.

The team in the kitchen was very friendly and humorous. There was always something new to learn and even in stressful situations everyone remained patient. From time to time there were group reservations at events, here everyone had to help out, but it was fun to work together. I found it very interesting to see what it's like behind the scenes in a kitchen. In summary, it was a very good experience and I would recommend the Donauturm restaurant to other students.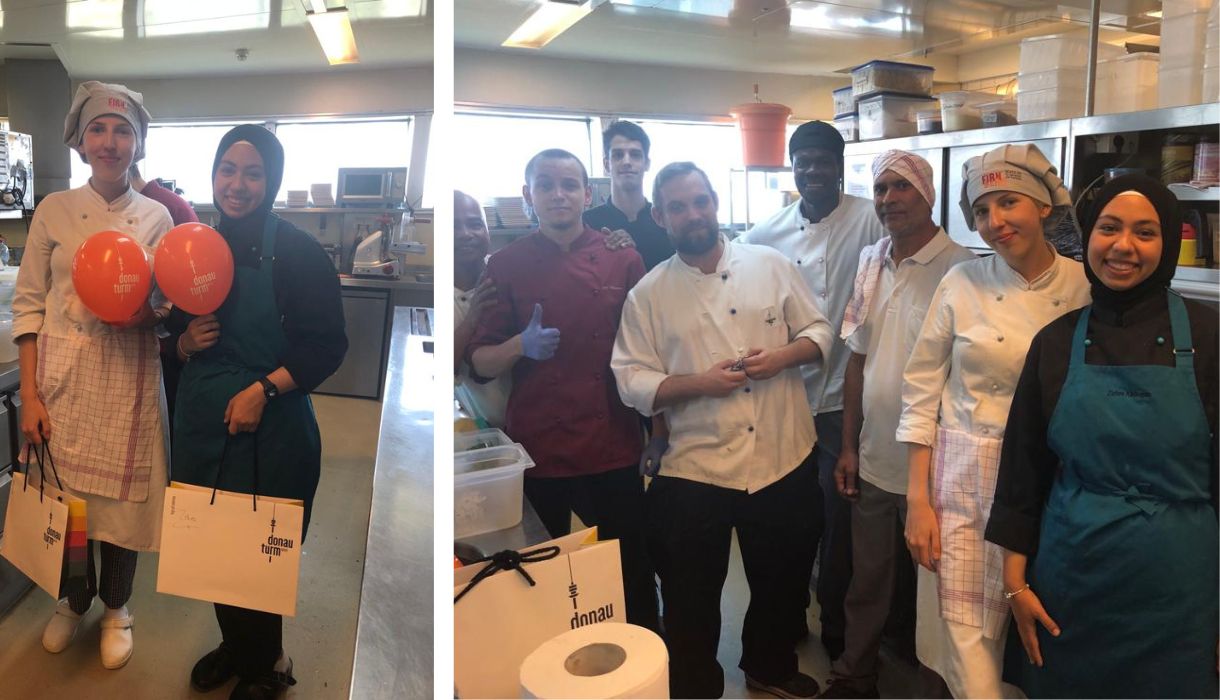 Turm Café
Alara Köse

I was employed as an intern in the Danube Tower for three months. And I was allowed to work in the tower café. The time up there was fun, the view was beautiful, but especially in the evening. My colleagues were very nice and helpful. Of course, there were also exhausting and stressful days. But I mastered that with motivation. And I was able to gain a lot of experience.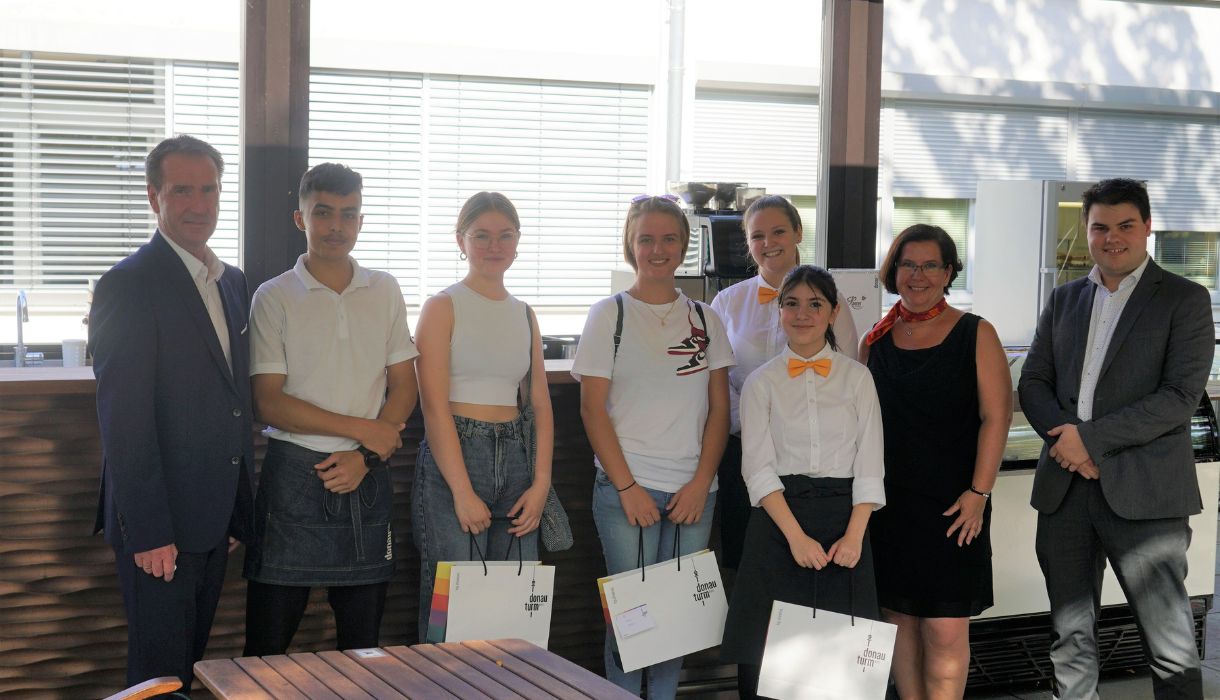 Donaubräu Service
Sophia Schulze

At the beginning I thought that 3 months is a long time. But in the end I was sad that the time passed so quickly.

I learned a lot professionally in these 3 months and had a lot of fun. Work can be exhausting at times, but my dear colleagues brightened up every day, no matter how exhausting it was. I got along well with everyone.

I also liked that I had the opportunity to work in the café and the restaurant at the top of the tower to gain experience in different areas. In addition, the internship was a good opportunity not only to gain work experience, but also to get to know Vienna a little better. I also made friends with the other interns and had a lot of fun.

All in all, I liked it very much and would work there again at any time.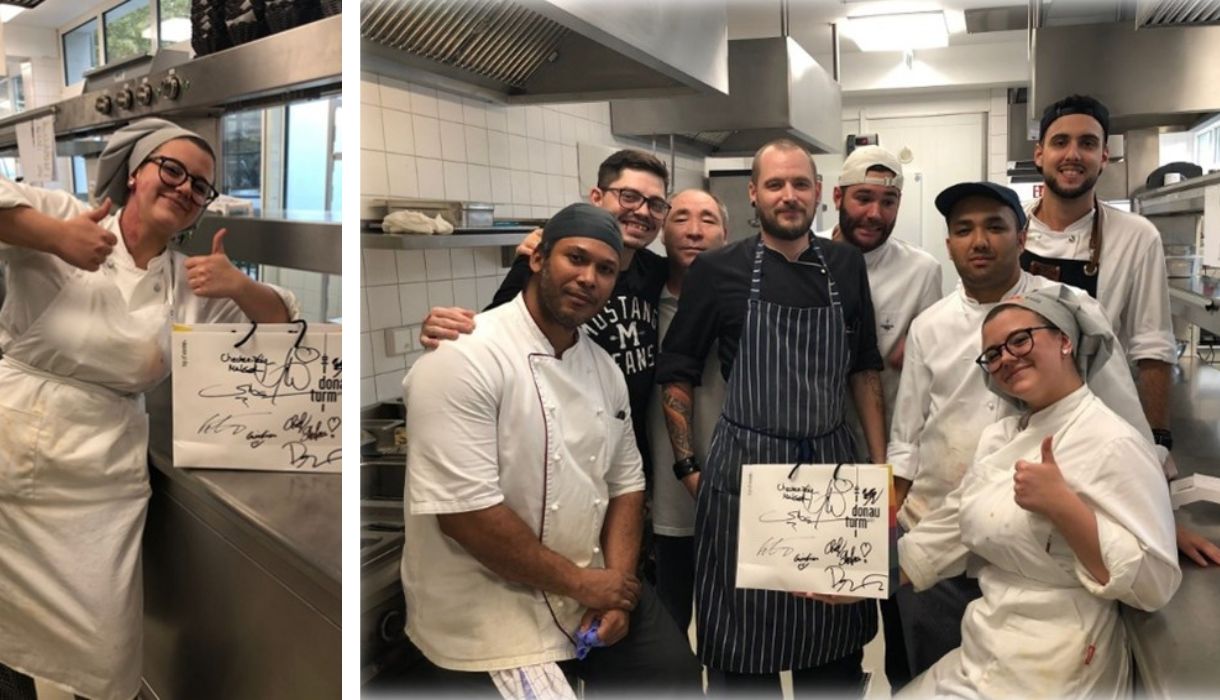 Donaubräu kitchen
Valentina Djurkic

First of all, I would like to thank you for allowing me to complete this instructive internship with you. I was able to take many positive impressions from this time. The very dedicated staff taught me many things that will be beneficial for my professional career. In addition, the various insights into different kitchens and the preparation of different dishes were extremely interesting as well as informative. Also, the time spent with the many employees was highly amusing and I was able to make some friends, for which I am very grateful. In summary, it was a great internship at the "Donauturm".