top of Events 170m above the ground

Menu suggestions
Please choose one standard set menu from the starters, soups, main courses and desserts for the entire party.

Starters
- Raw ham with melon
- Grilled zucchini slices with feta cheese and pesto*
- Graved salmon with dill mustard sauce and beet

Soups
- Consommé with mushroom croutons
- Seasonal vegetable soup*

Intermediate Course
- Grilled fish fillet on basil risotto with lemon beurre blanc foam
- Potato and spinach ravioli with cherry tomatoes, mushrooms, cabbage and sheep's cheese*

Main Course
- Grilled fish fillet on basil risotto with lemon beurre blanc foam
- Medium-rare sirloin steak roasted whole with herby mashed potato, vegetables and St Laurent red wine jus
- Viennese veal schnitzel with potato and lamb's lettuce salad
- Potato and spinach ravioli with cherry tomatoes, mushrooms, cabbage and sheep's cheese*

Desserts
- Mozartkugel mousse with sour cherry sauce*
- Range of Viennese strudel

Cheese
- Selection of cheeses with fig mustard, bread and grapes
3-course-menu € 59.-
4-course-menu € 64.-
5-course-menue € 69.- (incl. intermediate course)
Price per person incl. admission and cover
*These dishes are possible vegan, please advise when making your reservation.
Individual requests due to incompatibilities we can gladly fulfill from our seasonal offer.

Menu prices are valid from 13 to a maximum of 30 persons.
For more than 30 guests up to a maximum of 80 guests, please take into consideration that for exclusive events the minimum consumption is € 6.000,-.

All prices include VAT and taxes.
Event offer 2023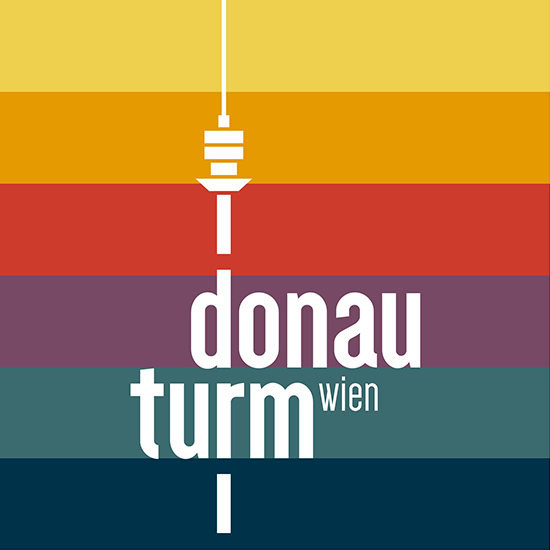 Payment & Cancellation terms
Christmas party 2023
Quotes from our Turm Restaurant event guests
June 17, 2023

The organization was very easy, the food and service excellent and the view spectacular. The Danube Tower team made the end of our company anniversary trip just perfect, we are thrilled and thank you!

May 26, 2023

Our company outing lunch was excellent at the Danube Tower Restaurant, very tasty and the service was equally excellent. Absolutely recommendable! Thank you very much!

May 24, 2023

Beautiful location to enjoy a special evening with gorgeous views !

March 26, 2023 & April 22, 2023

The visit and the catering at the Vienna Danube Tower, e.g. in the context of a family celebration, are really recommendable and have certainly a highest memory value with the guests.

Many thanks for the beautiful organization of the celebration, especially for the beautiful design of the table. About half of the guests had never been to the Danube Tower before. They were all very impressed. In addition, we had an exceptionally beautiful evening yesterday and experienced the transition from crystal clear daylight to a beautifully illuminated Vienna at night.

December 7, 2022

All in all, it was a great Christmas party with good food and an exceptional ambience. The entire Donauturm team was extremely polite and courteous. Thank you very much :-)
Contact form for your event request at the Turm Restaurant
Our event team is at your disposal for a personal inspection, a detailed converstion for the planning of your event as well as an individual offer.
Our in-house catering offers a wide variety of regional dishes and thus arranges the perfect culinary framework for your event.
Please fill in the following fields. Our event team will contact you shortly.
We look forward to hearing from you!
Turm Restaurant impressions
Corporate Events at the Turm Restaurant